Former Georgia linebacker, Alec Ogletree, whose collegiate career was tarnished by multiple arrests and suspensions, set an NFL Combine 40 yard dash record of 4.21 by hiring a police officer to chase him down the track.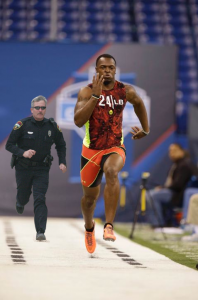 "I'm pretty fast on my own," Ogletree told reporters after the run. "But when the po-po's on my tail, I've got cheetah speed."
Ogletree, whose brushes with the authorities include a 2010 misdemeanor theft charge as well as a DUI arrest last week in Arizona, continued, "Linebackers need speed to cover tight ends across the middle and to plug the gaps on running plays. But you don't know what 'fast' is until you're hauling ass away from a crime scene carrying stolen property while the 5-0′s in hot pursuit. Trust me, I'm more than ready to handle Jimmy Graham now."
Ogletree's time barely topped previous record holder Antonio Cromartie, who ran a 4.28 while being chased by paternity lawyers.