CLEVELAND – Claiming that the organization needed, "a fresh new approach," the Cleveland Browns today announced the firing of Mike Pettine, the former defensive coordinator of the Buffalo Bills whom the team hired as their new head coach sixteen hours prior to his termination.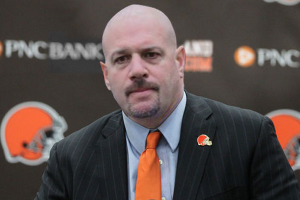 "At this time, the Browns franchise has chosen to part ways with Mike Pettine," said team G.M. Michael Lombardi. "We thank Mike for everything that he's done during his nearly full-day stay with our team, and we wish him well in all his future endeavors. Unfortunately, we just didn't see the hour-to-hour improvement that we were looking for."
"I'm saddened to leave the team under these circumstances, but I understand that this is a business decision," said Pettine, placing his personal office effects into the same white cardboard box from which he'd unpacked them the previous afternoon. "This is a 'what-have-you-done-for-me-lately' league, and the bottom line is that we didn't get the job done here. I thank the Browns for the opportunity they gave me. There's a lot of great guys on this roster, or so I've heard, and I'm sure I'd miss them terribly if I'd had the chance to meet any of them before my termination."
Added Pettine: "Can someone show me where the front door is again?"
Lombardi told reporters that a search for a new Browns head coach would begin "immediately," and will be conducted "with all the efficiency and professionalism that fans have come to expect from our proud organization."
While Lombardi declined to name candidates on the team's short list for the newly vacated position, sources close to the Browns revealed that possible successors to Pettine include Patriots offensive coordinator Josh McDaniels, Seahawks defensive coordinator Dan Quinn, the currently unemployed Rob Chudzinski, and Broncos offensive coordinator Alan Gase.